Important Covid-19 Emergency Funding Update – Delivering differently grants will be pausing

from

5pm on

the

19

th

of

May

due to

an influx of grant applications
May 2020
If you are looking to submit an application for a "delivering differently" grant on the London Community Response Fund, please ensure you complete this by 5pm on Tuesday 19th May. After this time, the Fund will be temporarily closed to new applications for this particular programme.  Delivering differently grants are to help organisations change their service delivery to support the needs of their communities, at the current time.   

It is anticipated that Delivering Differently grants and/or a new Wave 3 fund could reopen from early June.

You can still apply for crisis response grants, with funding of up to £10,000 available. This application helps specifically focus on urgent needs, such as food, mobile phones and other essential services to ensure groups and organisations can continue to function during this difficult period. 

This is a pause, not a stop.  
 Further funding will be announced from the London Community Response in early June. Please click here for more information.
---
Covid-19 Update – Wave Two Funding Applications Open
April 2020
Since Covid-19 became a very real threat in the last few months, John Lyon's Charity has joined forces with other funders in London to provide coordinated support to vulnerable groups affected by the pandemic.
Two weeks ago, Wave One was launched for grants up to £5k that apply to urgent needs such as food, mobile phones and other essential services. This has now been amalgamated into Wave Two of the London Community Response Fund, with grants of up to £50,000 available to apply for.
This increased fund is to support larger grants for organisations to deliver their services in new ways to ensure they can continue to support Londoners through the coming months.  
In some circumstances requests may be considered of above £50,000 but there must be a strong rationale in your application for this.
Please click here for funding guidelines and information on how to apply for Wave Two.
---
Covid-19 Update – Emergency Funding Applications Open
April 2020
Funders in London are working together to provide coordinated support to groups responding to the needs of communities affected by the Covid-19 pandemic. At present, The London Community Response total is currently just shy of £9million pounds and is growing steadily as further funders come together to contribute more.
John Lyon's Charity is currently working with London Funders on the first wave of funding, which specifically applies to urgent needs such as food, mobile phones and other essential services.
Although the first wave of funding will focus on urgent needs, there will be later funding which will support organisations to deliver services in new ways to support communities, and to ensure that their longer-term needs are considered.
The first wave of funding for food and essentials is now open with small grants available up to £5k.
Click here for Funding Guidelines and information on how to apply.
---
Funding for London's civil society groups affected by Covid-19 raise to 3.2m
March 2020
Three charitable foundations have pledged support for the London Community Response Fund, building on the £1m contributed by the Mayor of London and £1m from City of London Corporation's Charitable Funder, the City Bridge Trust.
John Lyon's Charity has ring-fenced £500,000 towards the effort, £500,000 of funding has been announced by Paul Hamlyn Foundation, and a further £200,000 has been contributed by the Julia and Hans Rausing Trust.
Thanks to this outstanding collaborative effort the London Community Response Fund now stands at £3.2million, with further funders expected to announce their contributions in the coming days, ahead of applications opening for civil society groups affected by the crisis to apply later in the week.
The fund, which will be coordinated by London Funders, will be available to organisations facing immediate financial pressures and uncertainty because of the covid-19 outbreak – with reports of organisations dealing with increased demand for services, sickness affecting staff and volunteers, and lower donations.
Funders have been working with London Funders to identify the needs of London's communities, to ensure that resources can flow quickly to those groups who need additional funding – this has included work to focus on the needs of vulnerable groups, children and young people, food, advice, domestic violence, homelessness, arts and culture organisations and more.  Details of the funding programme's first wave of applications will be published on the London Funders website in the coming days, and groups can sign up at https://londonfunders.org.uk/our-blog/new-emergency-support-fund-announced-help-community-and-voluntary-organisations to be kept updated when details are announced.
The new funding announced today comes on top of over 200 funders signing up to a statement showing their support to the sector at this time.  The statement, coordinated by London Funders, has signatories from across the UK who can all be seen on the dedicated website www.covid19funders.org.uk.
Commenting on the announcement today of the fund rising to £3.2m, the contributing partners have said:
Dr Lynne Guyton FRSA, CEO at John Lyon's Charity has said:
"John Lyon's Charity is committed to helping its grantees and CYP groups through this unprecedented crisis. To show our support, we are ring-fencing £500,000 to assist groups whose delivery and very existence might be affected at this time. It is our mission to walk alongside our groups and help them through this difficult time in any way we can."
Moira Sinclair, Chief Executive at Paul Hamlyn Foundation, said:
"The voluntary sector is needed today more than ever before – to provide care and help manage isolation, to run food banks and offer shelter, to provide distraction for our children at home and advice for those most affected. London will simply not cope without these organisations, and funders and government need to come together to support their extraordinary effort. Paul Hamlyn Foundation is pleased to be joining our peers to do just that."
Julia and Hans Rausing said:
"This is an extraordinarily tough time for everyone across the country, particularly for the most vulnerable in society. We are pleased to support London Funders on this new fund to support the communities affected by this grave pandemic."
---
Covid-19 Statement
March 2020
John Lyon's Charity is truly sympathetic to the impact of Covid-19 on our grantees and wider networks. In response, we have agreed in principle to the joint statement issued by London Funders.  This agreement represents the Charity's ongoing committment to being flexible and responsive to the challenges presented by Covid-19, in order to best support the Children and Young People's sector in our Beneficial Area.  However, we ask that grantees must get in touch with their Grants Manager before making any changes to delivery or grant expenditure. If you are unsure who to contact at the Charity, please email info@jlc.london.
Our thoughts go out to anyone affected by Covid-19 and we encourage everyone to follow NHS advice on how to avoid spreading and manage coronavirus.
---
John Lyon's Charity commits £500,000 to The Excluded Initiative in partnership with The Evening Standard, Martin Moshal and the London Community Foundation
January 2020
The Evening Standard, John Lyon's Charity, tech investor and philanthropist Martin Moshal and the London Community Foundation are working together for the next three years to support inclusion in London secondary schools.
The Excluded Initiative offers special support to secondary schools in London that have exclusion rates higher than the national average and are seeking to tackle these issues in an inclusive, nurturing way by building their inclusion capacity and expertise to drive down exclusions to a minimum.  We are seeking schools that have made a commitment to tackle exclusion rates and are looking to implement a plan to do so.  This plan must have the support of the school's management, staff and Governors, in addition to consulting with parents and the local community to ensure there are tangible benefits for the whole school.  The Initiative will provide project funding over a three-year period totalling up to £150,000 per school for your school's inclusion programme.
Lynne Guyton, Chief Executive of John Lyon's Charity said:

"Over the past eight years there has been a trend towards zero-tolerance resulting in more pupils being excluded.  This is happening for several reasons including lack of funding and because schools are under pressure to remove children who bring down their exam results.  In our experience of grant-making, unruly child behaviour is always a symptom of an underlying problem, be it bereavement of a parent, abuse by a family member, mental health issues of parents, being a 'looked after child' or inadequate housing.  By partnering with the Evening Standard's new campaign, we hope to empower visionary headteachers to pioneer new ways of bolstering inclusion."
Martin Moshal has also committed £500,000, which will be administered by the London Community Foundation.  He said:

"A school's approach to dealing with exclusions can make the difference between a young person correcting their path to enter the world confident and productive and one who is let down by the system, their potential unrealised, and may leave a trail of trauma in their wake.  Our work at the Moshal Scholarship Programme with over a thousand young people in South Africa and Israel has shown how success can arise out of adversity, given the right support.  My contribution to this critical Initiative by the Evening Standard is driven by my firm belief that there is massive unrealised potential among young people from challenging backgrounds, that if harnessed effectively, can transform their lives, those of their families, communities and the wider world.  My family and I lived in the UK until December 2018 and wish to show our gratitude to the country for hosting us over the last decade."
Kate Markey, Chief Executive of The London Community Foundation, which manages the Dispossessed Fund said:

"We want to embolden schools that have lacked the resources to be as inclusive as they might and who can lead the way in supporting distressed children that act out so that no child is left behind."
The Excluded Initiative is now open for applications from secondary schools within London.  Schools based in the Charity's Beneficial Area can find out more information on eligibility criteria and how to apply here.  Schools based in other London boroughs can apply via the London Community Foundation.
Read Lynne Guyton's blog on excluded young people here.
---
Children and young people's organisations in Kensington & Chelsea get a new Young People's Foundation as an early Christmas present
December 2019
A new organisation, Young K&C, has been founded in Kensington & Chelsea to provide support to youth organisations working within the borough.  Young K&C is a Young People's Foundation and it will aim to reinforce and strengthen groups who are involved with helping children and young people in their local area.
Any organisation which works with children and young people in Kensington & Chelsea can become a member of Young K&C. The membership is free and there are significant benefits from joining, including capacity building, fundraising support, access to consortium fundraising opportunities and access to a venue bank to share available spaces.
Nicola Butler has recently been appointed as Young K&C's first Chief Executive and begins working in her role in January.
The Chair of Young K&C, Andy Evans, says:
"It's an exciting time for Young K&C with our new CEO Nicola Butler starting in the new year. She'll be engaging with local providers and organisations to help them come together for the benefit of children and  young people in Kensington & Chelsea."
As part of the Young People's Foundation family, Young K&C is not competing for limited local funds, as it has secured core funding for the next four years from John Lyon's Charity (who developed the YPF model), as well as the Royal Borough of Kensington & Chelsea.
Dr Lynne Guyton, CEO of John Lyon's Charity, is positive about the establishing of Young K&C:
"I am delighted that our creation of, and continued support to, the Young People's Foundations (YPFs) model has evolved into such an effective body to support the voluntary sector.  The YPF model has allowed us to get even closer to our communities on the ground, including strengthening our links with local authorities.  We are thrilled that Young K&C is now coming to fruition."
Young K&C will enhance the Council's new youth offer, which includes newly refurbished hubs, youth clubs and officers in dedicated teams.
Lead member for Children and Families Services Cllr David Lindsay says:
"We're really proud to be backing Young K&C as they support community and voluntary sector organisations to develop and thrive. This new foundation will significantly enhance the offer for young people and will ensure providers are involved in decision-making and much more." 
You will hear more about Young K&C in the future, but you can help shape its future direction by signing up to become a member.
---
Convo wins Ivors Composer Award!
December 2019
Convo, a new work by emerging composer, Charlotte Harding premiered on Thursday, 7 March 2019 at the Royal Albert Hall.  It was commissioned by the Tri-Borough Music Hub, the Royal Albert Hall and the Royal College of Music with core funding from John Lyon's Charity. We are very proud to announce that last night, Charlotte secured an Ivor Composers Award for this incredible composition within the 'Community or Educational Project' category.
Convo (image below) was the culmination of a two year large-scale music composition and performance project working with young people from throughout the Tri-Borough (Hammersmith & Fulham, Kensington & Chelsea and Westminster). Eight schools were engaged in the first year (a primary and secondary school from each borough, and two special schools) to participate in workshops, delivered by Charlotte, to generate ideas for the composition, to be performed at the Royal Albert Hall. A true partnership, workshops were supported by a team of mentors from the Royal College of Music's RCM Sparks programme and ensembles from the Tri-Borough Music Hub. Workshops introduced the project to pupils and ensemble members, and pupils were supported to create their contributions to the final score. In the second year, the project grew to include 45 participating schools and all five of the Music Hub's Ensembles.
The result was a massed performance by young people alongside more experienced musicians that was truly inspirational. One thousand young people from primary, secondary and special schools contributed their voices and ideas, which were drawn together by the talented composer, Charlotte Harding. We are truly pleased for her and the success of this partnership project.
---
Communications Capacity Building Works: Grasvenor Gets Gold at the Charity Film Awards 2019
May 2019
Grasvenor Project's film, #RoleModels is one of 30 powerful, short films created to support the Charity's grantees through our Volunteer Films Initiative over the last three years.
In partnering with Media Trust, the UK's leading communications charity, John Lyon's Charity has funded 30 of its grantees over the last three years to make films alongside volunteer film directors. Crucially, charities are given the flexibility to create films to meet their communications needs, with subjects ranging from raising awareness and publicising the grantees' youth services to recruiting volunteers and fundraising.
The initiative sees professional film makers apply to Media Trust to volunteer their time and expertise on an expenses-only basis (budget: £1,500), who then match their skills and experience to each charity.  Films are made in collaboration with the charities and young people they work with, who add their voices to the process – and sometimes the final product – gaining skills and new experiences throughout the journey.
The project also incorporates two days of media training (focusing on social media, communications strategies and messaging) by industry experts, to ensure that groups are equipped to maximise the potential of their films and ensure their voices are heard.  Training days and an annual film launch at the Institute of Contemporary Arts also provide opportunities for groups to network and engage in peer-to-peer learning.
As a funder, John Lyon's Charity also recognises the importance of learning and developing these programmes.  Understanding that participants are best-placed to provide this insight and expertise, in 2019 the Charity ran a feedback session attended by the 2018 cohort.  Primarily, the session enabled the charities, Media Trust and John Lyon's Charity to share learning and experiences and hear what charities have been able to achieve with their films.
Communications capacity building works. In the 2018 cohort alone, of the released films:
Grasvenor Project won gold in the £100k-£500k category at the Charity Film Awards for their film #RoleModels on 26th April 2019. Over 400 charities entered films across its categories and 50,000 members of the public voted.  The work of this charity is very case-specific and so can be challenging to articulate, which the film supports. One of the film actors has gone on to become a mentor
Woodland Forest Adventure School Harrow is using its film in applications to funders and on its website
Greenford High School's film on its online-safety Cybermentor initiative has been shown at a borough-wide schools conference and led to an increase in the number of student volunteers and schools wanting to participate in the initiative. It has also featured in local news
Bag Books has launched its film in line with its 25th anniversary and is using the film to both thank and recruit volunteers to help make its multi-sensory storybooks
Kids' Cookery School has used its film for both trustee and volunteer recruitment, to give a real understanding of its work. Following one talk in a school, KCS received 52 volunteer applications
London Football Journeys is using its film to demonstrate its work and add its voice to a national message to #ChangetheNarrative around children and young people
Harrow Carers' film demonstrates their work as had received over 2,000 views by March this year. A business marketing student is taking lead on disseminating the film more widely
Stonebridge Boxing Club has used the film alongside its move into new premises
We are hugely pleased for what the charities have been able to achieve and look forward to keeping up with their journeys as we continue developing the project in 2019.
Links
All released films from the 2018 cohort can be found on the Charity's Vimeo page.
Other films can be found exemplifying each of the Charity's Programme Area pages.
Keep up to date with John Lyon's Charity on Twitter or Linkedin.
---
We've moved online!
March 2019
With a little help from our favourite mascot, John Lyon's Charity is delighted to announce that our application forms have moved online!  In a move for modernity and an effort to become more eco-friendly, grantees will now be asked to make logins and apply via our online Grants Portal.  This is available for all grant funds from today.
The one- and two-stage application processes remain largely unchanged, but how you submit information has.  To find out more about individual grant funds, click here.
This has also been an opportunity for the Charity to consider our procedures, the questions we ask and the way in which we ask them.  We have worked hard to ensure that the questions across our grant funds are relevant, uniform and user-friendly.  It also means that grantees will be able to see their reporting deadlines, receive email reminders of when reports are due (and overdue) and view any outstanding requirements – such as posting a hard copy bank statement to the Charity.  In addition, all the information about your application(s) will be in one place, enabling you to manage multiple grants (if applicable) more easily and refer to previous applications.
We hope this is the bright beginning of a more efficient, user-friendly process and welcome any feedback from grantees.  We have included a feedback box at the end of each application form, to enable us to keep improving our application process and deal with any new system niggles.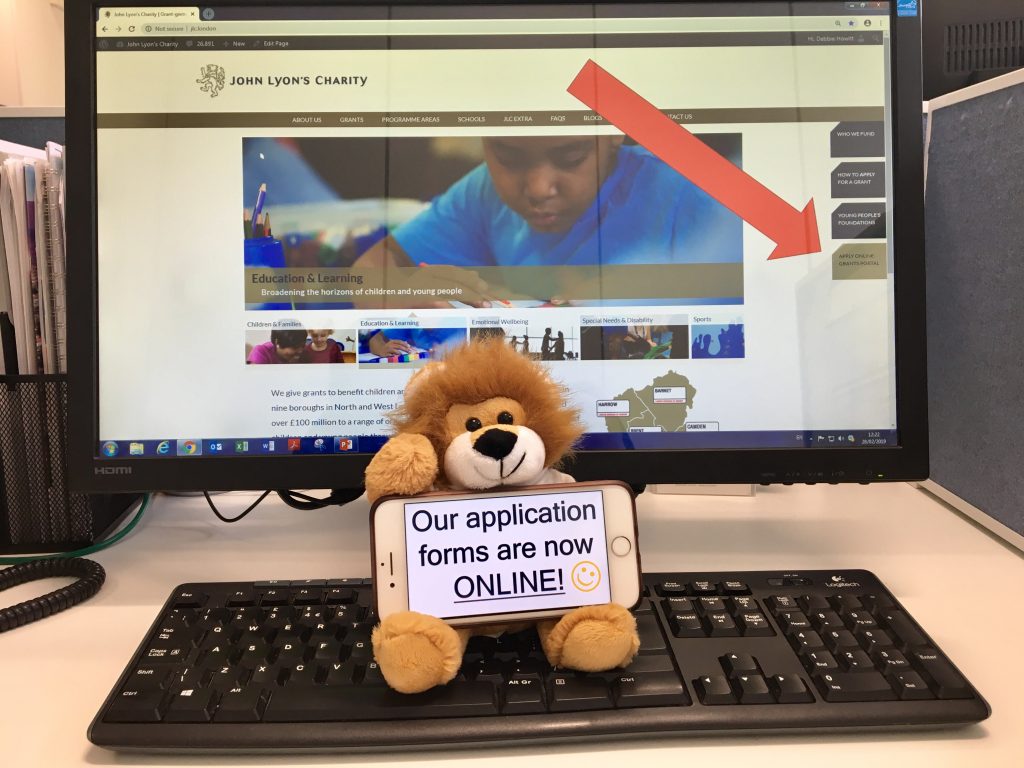 The Grants Portal can also be accessed through our main website menu by going to Grants > How do I apply > Apply Online: Grants Portal
---
We are a Living Wage Friendly Funder!
November 2018
John Lyon's Charity is proud to announce that we are now an accredited Living Wage Friendly Funder, taking our commitment to being a Living Wage Employer a step further.  In doing so, we have joined a movement of more than 30 funders across the country in the commitment and belief that 'a fair day's work should mean a fair day's pay', helping people whose posts are funded by the Charity to make ends meet.
"We are thrilled to have become an accredited Living Wage Friendly Funder.  While the majority of salaries funded by John Lyon's Charity are already at or exceed the Real Living Wage, we see this accreditation as reinforcing our commitment to and support of the people working so hard with the children and young people in our Beneficial Area of North and West London every day.  Moreover, we wish to add our voice to the 4,700 employers and over 30 funders that have committed to paying their employees – or grantees – fairly, by encouraging and facilitating our grantees to do the same.  It is only by enabling this systemic change that we begin to create the stability from which our children, families and communities can thrive."
 What does being a Living Wage Friendly Funder mean for applicants?
Being a Living Wage Friendly Funder means that we strongly encourage all salaries that are partially or fully grant-funded by John Lyon's Charity to be paid the Real Living Wage, as a minimum.  This applies to all salaries for people over the age of 16, including apprenticeships, internships, sessional and freelance staff.  However, we appreciate that there might be difficulties doing so, for example if a salary is part-funded below the Real Living Wage. Please visit the Living Wage section of our FAQ for further information.
We encourage all current and prospective grantees to become Living Wage Employers. Further information about what it entails can be found on the Living Wage Foundation's website.
What is the Real Living Wage?
Across the UK: £9.00
Greater London: £10.55
The Real Living Wage is an hourly wage rate based on the cost of living. It is independently calculated on an annual basis, based on a basket of household goods and services. Please note that funded projects taking place within the nine boroughs of the Charity's Beneficial Area* should apply for salaries at the London Living Wage of £10.55 per hour, as a minimum. This is higher than the Government's National Living Wage (£7.83 per hour for over 25s) which is based on average earnings, rather than what families need to live.  
*The Charity's Beneficial Area is: Barnet, Brent, Camden, Ealing, Hammersmith & Fulham, Harrow, the Royal Borough of Kensington & Chelsea and the Cities of Westminster and London.
When will John Lyon's Charity start to implement the Real Living Wage?
From now! We welcome revisions to any applications that have not yet been considered by the Trustee and all new applications from today, 5th November 2018. For more frequently asked questions, click here.