We've moved online!
March 2019
With a little help from our favourite mascot, John Lyon's Charity is delighted to announce that our application forms have moved online!  In a move for modernity and an effort to become more eco-friendly, grantees will now be asked to create a login and apply via our online Grants Portal.
The one- and two-stage application processes remain largely unchanged, but how you submit information has.  To find out more about our individual Grant Funds, click here.
This has also been an opportunity for the Charity to consider our procedures, the questions we ask and the way in which we ask them.  We have worked hard to ensure that the questions across our grant funds are relevant, uniform and user-friendly.  It also means that grantees will be able to see their reporting deadlines, receive email reminders of when reports are due (and overdue) and view any outstanding requirements – such as posting a hard copy bank statement to the Charity.  In addition, all the information about your application(s) will be in one place, enabling you to manage multiple grants (if applicable) more easily and refer to previous applications.
We hope this is the bright beginning of a more efficient, user-friendly process and welcome any feedback from grantees.  We have included a feedback box at the end of each application form to enable us to keep improving our application process and deal with any new system niggles.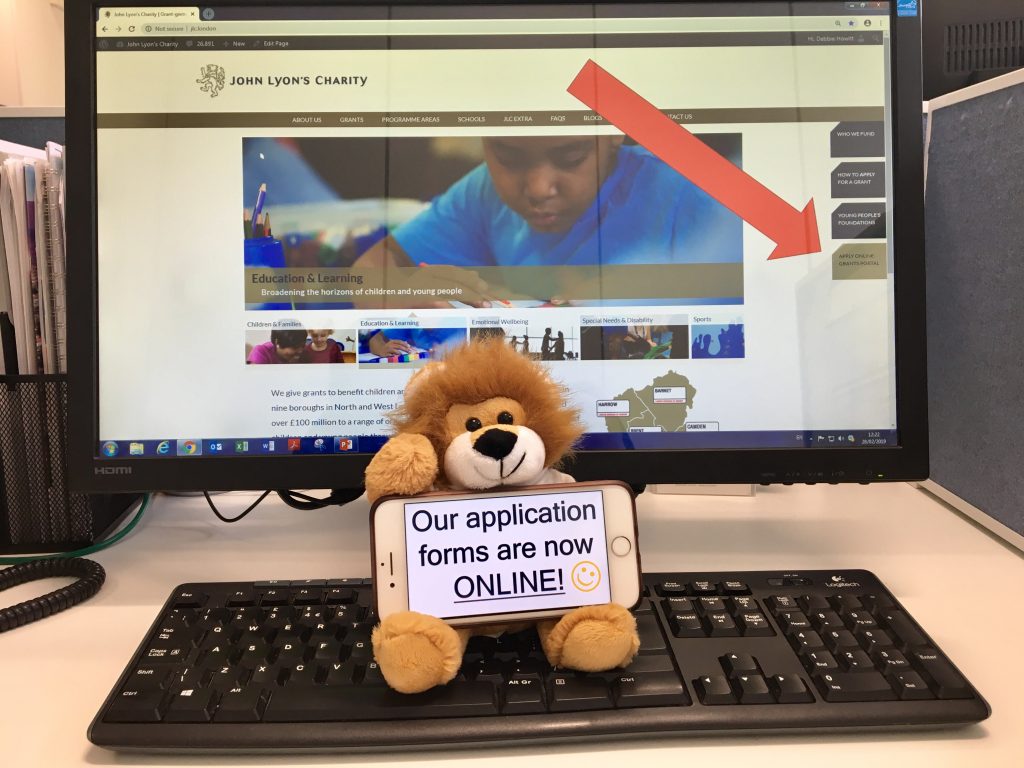 The Grants Portal can also be accessed through our main website menu by going to Grants > How do I apply > Apply Online: Grants Portal
---
We are a Living Wage Friendly Funder!
November 2018
John Lyon's Charity is proud to announce that we are now an accredited Living Wage Friendly Funder, taking our commitment to being a Living Wage Employer a step further.  In doing so, we have joined a movement of more than 30 funders across the country in the commitment and belief that 'a fair day's work should mean a fair day's pay', helping people whose posts are funded by the Charity to make ends meet.
"We are thrilled to have become an accredited Living Wage Friendly Funder.  While the majority of salaries funded by John Lyon's Charity are already at or exceed the Real Living Wage, we see this accreditation as reinforcing our commitment to and support of the people working so hard with the children and young people in our Beneficial Area of North and West London every day.  Moreover, we wish to add our voice to the 4,700 employers and over 30 funders that have committed to paying their employees – or grantees – fairly, by encouraging and facilitating our grantees to do the same.  It is only by enabling this systemic change that we begin to create the stability from which our children, families and communities can thrive."
 What does being a Living Wage Friendly Funder mean for applicants?
Being a Living Wage Friendly Funder means that we strongly encourage all salaries that are partially or fully grant-funded by John Lyon's Charity to be paid the Real Living Wage, as a minimum.  This applies to all salaries for people over the age of 16, including apprenticeships, internships, sessional and freelance staff.  However, we appreciate that there might be difficulties doing so, for example if a salary is part-funded below the Real Living Wage. Please visit the Living Wage section of our FAQ for further information.
We encourage all current and prospective grantees to become Living Wage Employers. Further information about what it entails can be found on the Living Wage Foundation's website.
What is the Real Living Wage?
Across the UK: £9.00
Greater London: £10.55
The Real Living Wage is an hourly wage rate based on the cost of living. It is independently calculated on an annual basis, based on a basket of household goods and services. Please note that funded projects taking place within the nine boroughs of the Charity's Beneficial Area* should apply for salaries at the London Living Wage of £10.55 per hour, as a minimum. This is higher than the Government's National Living Wage (£7.83 per hour for over 25s) which is based on average earnings, rather than what families need to live.  
*The Charity's Beneficial Area is: Barnet, Brent, Camden, Ealing, Hammersmith & Fulham, Harrow, the Royal Borough of Kensington & Chelsea and the Cities of Westminster and London.
When will John Lyon's Charity start to implement the Real Living Wage?
From now! We welcome revisions to any applications that have not yet been considered by the Trustee and all new applications from today, 5th November 2018. For more frequently asked questions, click here.